<!!--INSERT TEXT BELOW--!!>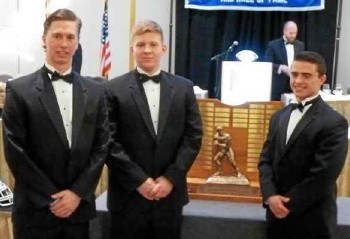 The 54th Delaware Valley Chapter of the National Football Foundation scholar-athlete banquet was held on Sunday, March 13, 2016 at the Hyatt Regency in Princeton, NJ.

The areas finest high school scholar-athletes were honored along with top performers from area youth football, the College of New Jersey and Princeton University.

Pictured are the major scholarship winners (from left) Notre Dame's Xavier Lezynski, Steinert's Frank Lucchesi and West Windsor-Plainsboro North's CJ Markisz.



More about our Scholar-Athlete Banquet






Established in 1962, the Delaware Valley Chapter of the National Football Foundation is intimately involved in amateur football in the Central New Jersey area. Covering 6 counties, 23 high schools and 2 colleges, Delaware Valley is a visible presence throughout the year.

Led by the dynamic Eric Hamilton, former Head Football Coach at The College of New Jersey and a team of dedicated volunteers, the Del-Val chapter hosts several NFF programs and is a shining example of the NFF in action.

The annual Scholar-Athlete banquet is the premier event for the chapter. Held in March, the dinner attracts over 450 football enthusiasts annually. Each of the High Schools representing 6 counties in the NJ Delaware Valley honors its top student-athlete along with top performers from the College of New Jersey and Princeton University. All students, decked out in donated tuxedos from Gianni's Formal Wear, receive a scholarship for college with the top 3 winning $5,000, $2,500 and $1,500 respectively. Since the banquet's inception, over $650,000 has been given to date. Other awards presented during the evening are the Distinguished American, Contribution to Amateur Athletics, Contribution to Youth Football, the Jack Millard Officials Award, the Hank Johns Coach of the Year Award, the Pop Warner Little Scholar Award, and the President's Chapter Award, given to a member who went above and beyond in his service to the chapter. It is a truly spectacular event highlighting the area's best and brightest.

Other chapter events during the year further promote the Chapter and Foundation mission as well as generate funds for scholarships. The Del-Val chapter hosts the Sunshine Classic High School All-Star game which pits players from the 37 area schools in a much anticipated showcase. All proceeds from the game go to the Sunshine Foundation and chapter scholarships. In July, the chapter hosts the Bob Jaroni 7-on-7 passing league. Each week in the fall, the 12th Man Touchdown Club honors the offensive and defensive players of the week. In December, the chapter hosts a college recruiting night for students and their parents to meet with recruiters and admission representatives.


55th ANNUAL SCHOLAR-LEADER-ATHLETE AWARDS DINNER

The 55th Annual George Wah Scholar-Athlete banquet will be held on March 12, 2017 at The Westin at Forrestal Village in Princeton, NJ.
The mission of the National Football Foundation & College Hall of Fame is to promote and develop the power of amateur football in developing the qualities of leadership, sportsmanship, competitive zeal and the drive for academic excellence in America's young people. You can visit the NFF website at www.footballfoundation.org

<!!--STOP. END OF TEXT.--!!>
<!!--INSERT TEXT BELOW--!!>