PLAYER NOMINATIONS:

Coaches, please submit player nominations

each week by clicking here.






DINNERS FOR 2020 HAVE BEEN CANCELED
Please note despite this decision, we intend to recognize Players of the Week throughout this shortened campaign. Winners will be announced Monday evening each week.

Each week in the fall, the Delaware Valley Chapter's 12th Man Touchdown Club honors Mercer County's offensive, defensive, and special team players of the week with a dinner at Massimo's Restaurant, 1035 Washington Blvd. in Robbinsville. Mr. Steve Tuckerson serves weekly as Master of Ceremonies.

Dinner begins at 7:00 P.M. with pictures of the student-athletes. This year's schedule is listed at the bottom of the page.
END OF THE YEAR AWARDS . . .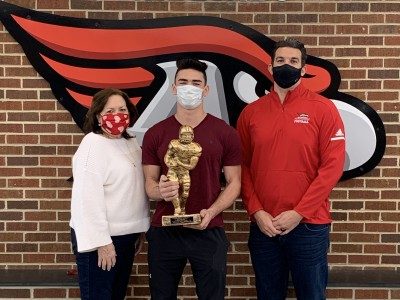 Player of the Year |

Dan Merkel, Allentown
The Frank "Mammy" Piscopo Memorial Award is presented by the Santuzza Oilers and awarded to the Player of the Year (non-Preps). Allentown's Dan Merkle joins former Redbirds Rick Mottram (2016) and Michael Curry (2014) in capturing The "Mammy", which has been awarded since 1989. Merkle finished the 2020 season with 1,364 yards passing, 995 yards rushing and 21 total TDs for head coach Andrew Lachenmayer. He was a four-year starter at quarterback for the Redbirds and finished his career as the all-time leading passer in Mercer County history (6,011 yards) while also rushing for a career total of 3,208 yards.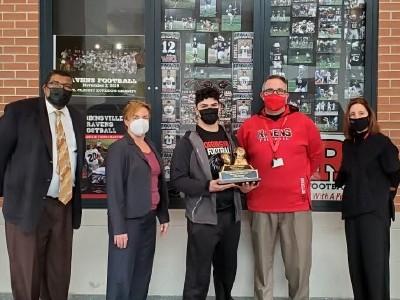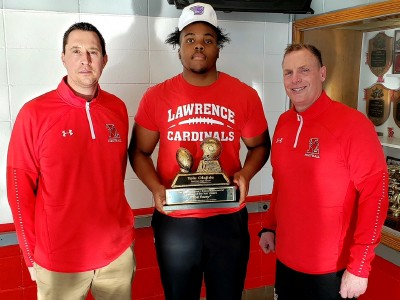 Co-Lineman of the Year |

Eric 'Aaden' Butler, Robbinsville &nbsp&nbsp&nbsp&nbsp&nbsp&nbsp

Tolu Olajide, Lawrence
The Charles J. "Fuzzy" Falzone Memorial Award has been presented by the Benevolent Order of Falzone since 1989 and is awarded to the Lineman of the Year (non-Preps). Eric 'Aaden' Butler of Robbinsville and Tolu Olajide of Lawrence are co-winners of this award for the first time since 2013. Butler is the first Raven to win either TD Club award, while Tolu is the third Cardinal to win the award, and first since Cameren Kitchen captured the award in 2013. Butler has been a starter since his freshman year for head coach Andrew Patterson's squad. He is the primary offensive guard the Ravens ran behind as they averaged over 300 yards of offense en route to a 6-1 campaign. He is also an impact player at middle linebacker, leading a defense that surrendered only 8 points per game. Eric is committed to attend Rensselaer Polytechnic Institute (RPI). Olajide was a standout at left tackle for the Cardinals and has already received an offer from Assumption College and should receive more as his recruiting unfolds. He was a bright spot for head coach Rob Radice's team, despite only playing 4 games in this shortened season.





| Click Here for our list our 2020 Unsung Heroes!



<!!--NEXT WEEK--!!>


:



VIEW ALL OF 2020's WEEKLY AWARD WINNERS | <!!--ADD TO ARCHIVE AS WELL--!!> <!!--NOTE: PHOTO WIDTH SHOULD NOT EXCEED 400 W--!!>


2020 SCHEDULE . . .



<!!--STOP. END OF TEXT.--!!>